Springsteen Comes First at Kumeu River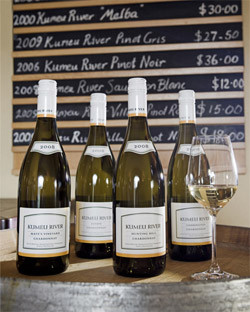 One of New Zealand's most successful Chardonnay producers, Kumeu River, is unlikely to be harvesting any grapes during the first weekend of March. Bruce Springsteen is in concert in Auckland and winemaker Michael Brajkovich MW won't be missing the Boss perform. Since he heard Born to Run when he was 15, he has been a fan and has seen him "a lot of times including at Wembley." The grapes will have to wait.
The Rolling Stones are also coming to town later this year but he's seen them before and, let's face it, they're past their best before date. However, he did take his mum to see Dolly Parton in recent weeks. While Dolly drew an older crowd, the 9 to 5er was excellent, according to Brakovich.
The Boss and the Stones were the topic of conversation between tasting the latest vintage in the winery lab, surrounded by scientific equipment and empty special bottles. If you ever visit, ask about the black and white poster of Bonny & Clyde posing with three other mobsters on the wall. It was half-inched from a movie theater by a friend at some point in the distant past because one of the actors in the picture looked like Michael's late father, Maté! They tried to fool visitors that it was him.
The winery's flagship vineyard and wine is named in honor of Maté. It's devoted to Chardonnay, the variety that makes up two-thirds of Kumeu River's production.
Located within the boundaries of Auckland City, there's a treacherous road between Maté's Vineyard and the winery that a family of hedgehogs wouldn't stand a chance of crossing and remaining in 3D. This is commuter belt for those wanting rural living yet who work in the city. "The pressure is urbanization. People complain when we fly a helicopter at 3am to fight frost," said Michael. Despite trying to fight frost during the 2012/13 season, however, they lost two-thirds of the crop. And probably had a few tired and grumpy neighbors.
Nevertheless, he shrugs the losses off. He's been in this game too long to get worried and this season's crop is looking healthy and abundant.
Picking was due to start on Valentine's Day for the winery's sparkling wine. This is a new string to its bow. "In 2012 we made our first [sparkling] base wine, it's a 60/40 Chardonnay/Pinot Noir experiment," he said.
"There's some pinot vines by the winery that don't make very good red wine and when we smelled it in tank it was Champagne-like, so we decided to have a go in 2012."
This wine was bottled in October last year and has been on lees since. He doesn't know how long it'll be on lees for because "it's an experiment."
Making sparkling wine represents a large shift for Kumeu River from days of old. Until the mid-1980s, fortified wines represented a large chunk of the winery's production. Consumer tastes change, wine styles change.
The constant thread here is the damn good Chardonnay. Never buttery with plenty of fresh acidity, the zesty and lemony entry-level Village Chardonnay is great value for money. If you like a more powerful style trade up to the Coddington Chardonnay while the most delicate expression – and my personal favorite – is the Hunting Hill Chardonnay. Full tasting notes can be found in the tasting note section of the site.